Thanks to all my readers, I found this quickly! It's the basilica of Saint Sernin in Toulouse, France at Webshots by skaitey. In my ignorance I thought the wall of the church was part of the church environs, when it is a model of Toulouse...but I think it still does well for the Singer's Abbey and the Tower at the right for her residence.
THANKS ALL!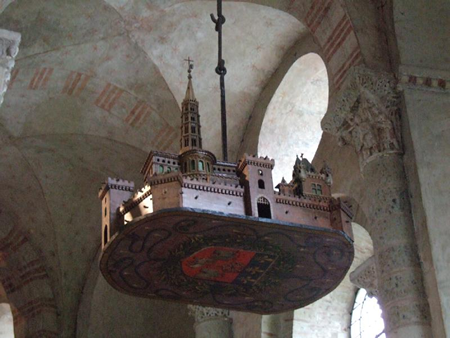 This is the original image I had for the main building (the actual abbey) of Singer's Abbey. It's a model because that's what I was looking for in Sorceress of Faith -- Tuck's house.
I'm sure I pulled it off webshots (looks like the date is September 2005), but it's no longer there. So not only don't I know what church this is, I can't give credit for the photo.
The Singer's Offices, Audience Room, as well as another chapel is King's College Chapel in Cambridge, England (that's "seen" in Protector of the Flight). I have a jumble of buildings as the actual abbey.
Anyway, any help will be gratefully gushed over.
May you have your research at your fingertips.
Robin