Journal/Engagement Calendar Alternate creativity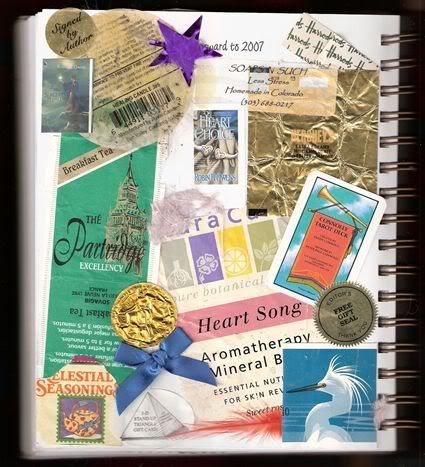 I think I've spoken a little about the journal/engagement calendar that I have and absolutely love, The Sacred Journey, Daily Journal for Your Soul. It is a wonderful size and really lets me play. I only did 2 collages last year and this is one of them. The other has copyrighted art that I manipulated so I don't think you'll see it.
I include texture (the pink thing is a feather, as is the orange spear), and scent...I have a bottom of a candle that still has scent and a soap label, ditto. I am not great at these, but I enjoy them, and they are done bit by bit, so don't eat a lot of writing time.
May you enjoy your creativity today,
Robin