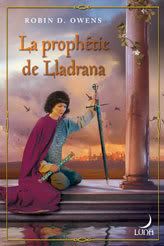 La prophétie de Lladrana
de Robin D. OWENS
Luna n° 26
01 mai 2007
Prix : 6,90 € / Sfr. 12,00
Ajouter au panier
Attirée par un chant mystérieux, Alexa, jeune avocate du Colorado, se retrouve du jour au lendemain dans le monde de Lladrana, un univers dominé par la magie et peuplé d'êtres étranges. Soutenue par Sinafin, une créature féérique qui la guide et la conseille, et secondée par le chevalier Bastien, elle accepte de combattre pour défendre ce monde qu'une prophétie la destine à sauver. Mais il lui faudra un jour choisir entre le Colorado, où personne ne l'attend, et le pays de Lladrana, où elle sera toujours une étrangère…
A propos de l'auteur
De nombreuses fois primée pour ses romans fantastiques et futuristes, Robin D. Owens signe, avec La prophétie de Lladrana, son premier ouvrage pour la collection Luna, un roman initiatique empreint de poésie.
WOW WOW WOW OH WOW WOW WOW...
I'm going to have to get this...or should be getting a few copies (3) so I can see what they did with my Fractured French...
smooches,
May validation and pleasure come from an unexpected source today.
Robin