Archon Panels
Unlike most writing conferences, sf/f conferences don't ask for proposals for seminars/panels. They ask for input, but being overwhelmed as usual, I didn't give much. I WAS surprised at how many panels I was listed for, and didn't prepare for any except the one the moderator rounded us up and asked about -- the Sex in S/F How Far Can You Go. (see below, they gave me a nifty little card to carry around with all my panels)
I've been published since December 2001, and even before then I was doing interviews to get my name out across the net, so a lot of this I can do off-hand. I did note that my diction and word choice was a lot fuzzier the later the con got...
In any event, the Sex one was rather restrained, the telepathy one was two of us, a guy writing horror (sorry not to use his name but I'm running late as usual and will miss my first bus and the cats are whining for food) and me, neither of us knew each other and I think that's where I lost my upright bookholder. It was a good panel.
Actually, the only one that got really out of hand was the last, Out of the Apron....we grossed some men out so they left and the rest of us laughed ourselves silly.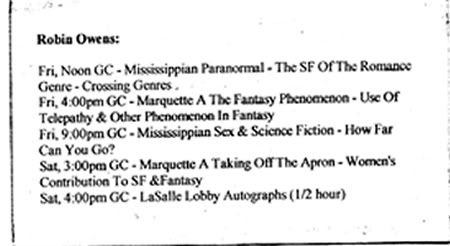 May humor bless your day,
Robin