All right. If you've been following my blog, you all know that I have strong feelings about creativity. First, I believe that EVERYONE is creative -- whether it's at baking, raising children (there's no more creative process!) knitting, fishing, mapmaking, or software design.
I also believe that if you want to be a writer, you focus on your writing and not any other creativity. That is, you give most of your creative input/output to your writing. You don't split between writing and painting or writing and composing.
But playing with other creative outlets is fine. I used to do improv and was pretty good at one time, but when my group broke up, I didn't search for another one. It didn't mean that much to me. Every year at this time I'm asked to participate in an improv show at Mile Hi Con. I decline. I am beyond rusty and nervous onstage. Now, as I said before, I play with graphics.
In HeartMate, I mentioned a set of Divination Cards, and a spread (way to lay them out). A couple of months back I was asked where to get these a couple of times (I don't know, but I think there was a bet going on -- "they exist" "no, they don't"). Well, I'd made them up, but it got me thinking that I could do my playing with graphics thing and make some up.
The first card mentioned is Heir of Wands (I had to look that up, it's a wonderful thing, FIND in document), but I haven't made one of those up. I mentioned the GreatSuite, which I would liken to the Major Arcana (but not 21 cards) of the Tarot. One of the next cards mentioned was the Crimson Nuts of Knowledge -- Hazel, which includes the salmon of wisdom eating the nuts, then being eaten himself. Well, I got the Hazel tree, hazel nuts, and a salmon. I know this isn't great art, but it satisfies me. And someday, maybe--- or maybe not.
Anyway, here it is. My playtime to help refill my writing muse.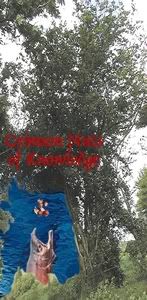 May the knowledge of a new technique grace you today,
Love,
Robin