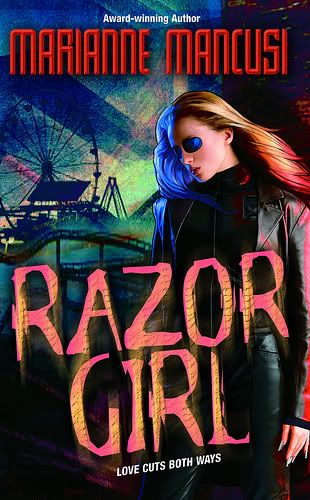 RAZOR GIRL by Marianne Mancusi
Molly Anderson is not your average twenty-one-year-old. It's been six years since she and her family escaped into a bunker, led by her conspiracy theorist father and his foreknowledge of a plot to bring about the apocalypse. But her father's precautions didn't stop there. Molly is now built to survive.
Yes, Ian Anderson's favorite book gave him ideas on how to "improve" his daughter. Molly is faster, stronger, and her ocular implants and razor-tipped nails set her apart. Apart, when—venturing alone out of the bunker and into a plague ravaged, monster-ridden wilderness—what Molly needs most is togetherness. Chase Griffin, a friend from her past, is her best bet. But while he and others have miraculously survived, the kind boy has become a tormented man. Together, these remnants of humanity must struggle toward trusting each other and journey to the one place Molly's father believed all civilization would be reborn: the Magic Kingdom, where everyone knows it's a small world after all.
Cover: http://ecx.images-amazon.com/images/I/51RHRIRT3KL._SS500_.jpg
Excerpt:
ABOUT MARIANNE MANCUSI
When it comes to writing, award winning author Marianne Mancusi likes to play the field. From time travel comedies to kick butt speculative fiction romances to a Buffy'esque vampire series for teens, she's published eleven books in three years, in a myriad of genres and styles.
In addition to writing, Marianne is a multiple Emmy award winning television producer, currently working for the nationally syndicated women's lifestyle show Better TV. A Boston native and graduate of Boston University 's College of Communications , she currently lives on Manhattan 's Upper West Side . (But has NOT become a Yankees fan!) In her spare time, Marianne enjoys clubbing, cosplay, cheesy horror movies (especially those featuring zombies!), her dog Molly, and videogames.
REVIEWS
"Opens with danger and will grab your interest immediately. Stellar!"
--Huntress Reviews
"An increasingly intense, suspenseful edge-of-the-seat thrilling ride…stunning, cutting edge romance."
--Merrimon Book Reviews
"Non-stop thrill ride from page one! Marianne Mancusi spins an eerily marvelous tale in her book RAZOR GIRL."
--Simply Romance Reviews
"Mancusi doesn¹t hesitate to take chances and innovate!"
--Romantic Times
"Marianne Mancusi has returned with an edgy all-new tale, Razor Girl, filled with fast-paced action and a heroine strong enough to mold her own destiny."
--SF Scope
May you enjoy all you read today.
Robin