All right. T'Ash is Lorenzo Lamas
FROM AN OLD PUBLICITY PHOTO FOR RENEGADE.
or a young Oliver Reed. Danith Mallow D'Ash is Linda Ronstadt.
Holm is Hardy Krueger Jr. with lighter hair:
PHOTO FROM THE FOLLOWING WEBSITE:
http://www.kempf-theater.de/green/index.shtml
WHICH IS IN GERMAN.
I've become a fan of Dancing with the Stars and there's a blond dancer, Derek Hough, who is somewhat baby faced,
but that man can MOVE
. So no still photo from him. He's dancing with Shannon Elizabeth this year and I am just stunned by his grace. So he's going to be Tinne.
:)
My heroine, Lahsin Burdock Yew, is very young and somewhat Asian looking so I haven't cast her yet....(just did) Angelica Panganiban. Picture is from the spread in Maxim Magazine, Issue 1, in the Phillpines.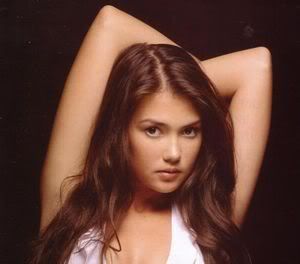 Whew. Something done, now to study my panel questions....
Robin