Cat is sick with a cold (I've dodged that), and took her to the vet again today, which she didn't like. It was 2pm and after that I hit the road, wanted someplace close so decided to go to Lookout Mountain and see Buffalo Bill's grave. Hadn't done that since I was a kid. Went to the grave and through the museum and still wanted more. So I drove up to Idaho Springs which will be a small town in Heart Journey for research. Ate at the restaurant at I
ndian Springs
.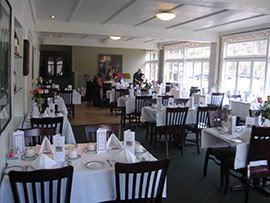 No formal tablecloths and napkins though, and that was fine.
My next afternoon away will be Monday since that's when my cleaning person comes and I may go back and book a spa. I'd like to go to Glenwood Springs, too, to double check some things in Heart Fate -- in the winter. Maybe next month.
Anyway, not as refreshed as the last couple of times that I got out, but have a modicum of peace. The Mt. Evans road, was, of course, closed but I drove up Ute River Road for a while anyway.
The Garmin had problems atop Lookout Mtn. SOMEONE hadn't plugged it entirely in and it kept showing itself being hooked up to a computer, which, of course, meant it wasn't connected but which I thought meant it needed to be updated. Much muttering under the breath because I've been lost a couple of times on Lookout Mtn. When I figured out the icon meant the plug wasn't settled, it was much better ;) and I used it to get to Indian Springs, the turnoff is tricky and it negotiated it well. On the way home it turned from day to night abruptly, disconcerting me because the glow of the sun behind the mountains was still quite bright.
So that's my adventures for the day. The cat seems perkier. I am thinking about getting her a companion and have one picked out (little does she know).
May you enjoy the rest of your day.
Robin