Things that take your breath
Writers use something like "received a jolt to the heart" and the standard "it took her breath away." Occasionally something like that happens.
This morning when I looked out it had snowed last night about an inch. I knew weather was coming in but hadn't expected a white morning. To me it was pretty and I looked at it, and then thought that I didn't have the shovel I wanted yet to clean the stuff up. To someone from warmer climes it might have taken the breath...My window shows a beautiful light tracing of snow on bare branches and twigs. Pretty.
But the following was new to me:
Walking into the house and getting the first glimpse of the ocean literally took my breath away. It was a shock, then came the sound -- of the surf rolling in, fading out. Incredible.
[INCREDIBLE IS THE WORD OF THE DAY, THE ONE THAT KEEPS POPPING UP IN MY WRITING TODAY -- YESTERDAY IT WAS HEAVY: T'YEW HAD HEAVY FOOTSTEPS, THERE WAS A HEAVY SILENCE. SO I ACCEPT THAT I WILL USE A WORD OFTEN, STICK ** BY IT AND WILL CLEAN IT UP LATER, THAT'S MY WRITING TIP FOR THE DAY. DON'T AGONIZE OVER WORD CHOICE IN THE ROUGH DRAFT, JUST GET IT DOWN AND CHANGE LATER]
It was evening and I wanted to look around (and we were using the elevator -- a teenie thing -- to move our suitcases up and down. I was asked to do so by a new acquaintance and couldn't figure out why until I realized she must have issues with claustrophobia. I mean, I didn't have to stretch out my arms to touch the walls, I think it was about 4 x 4), so I didn't take a picture immediately.
I don't have photo of the ocean through the entry hall, living room window, but here it is on the deck of the first level. Just below is the pool (I didn't bring my suit :( ) and then the boardwalk (with benches) to the beach. The near white stuff is sand, not snow. The far white stuff is surf, not snow.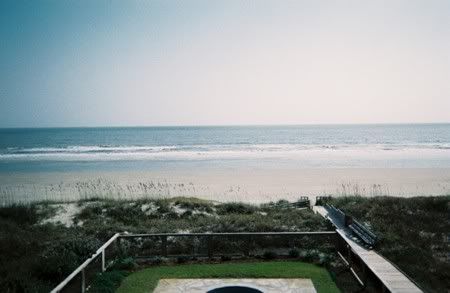 I think that the thing that really took my breath was how BARE the horizon was. Not even the scrub of the northern plains, which can also look endless. Just water. No mountains or buildings...nothing. It WAS a jolt.
May you enjoy the horizon of your life today.
Robin