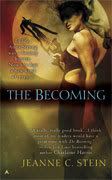 Jeanne Stein is one of those talented writers who was first published by a small press, then picked up by a large NY publisher.
I bought The Becoming (and enjoyed it) when it came out from ImaJinn, and now it's out in mass market paperback.
And this is pretty much an apology because I won't be at her signing tonight. The cold lingers.
Anyway, check her and The Becoming out!
May you have energy to spare today.
Robin