Struggling to Finish Enchanted Again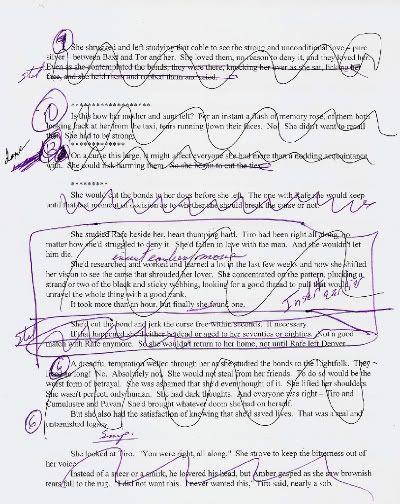 Yes, I wanted to finish Enchanted Again last Friday...and today...and it looks like I might actually make it tomorrow. This has included a myriad of odd activities that occur when on deadline...like writing my all time highest wordcount (6634) in 7 hours. And pasting together three scenes that dealt with one idea (see pic above). Reaching the standard "this novel is crap" stage and whining to mentor. And thinking, after I finished today, "you know, those pages would be better in the previous chapter and put into dialogue." Urgh. And having all sorts of out-of-sequence files open in my word processor (I'm limited to 8), called such things as "Consider1" "NewUpdate2" "AllEndings," "Duel1" "DeathOfSzztt" "BreakingBonds2B".
I really think I've gone crazy. But I have reached the point where I am desperate to finish the book, just so it's DONE. I'll print it out, read it, hand it to mentor for any logic problems, reformat and send it off by 3pm Monday. It will be GONE. And Someone Else's Problem (Editor), and I won't have to see it for a while. And maybe when I see it again I can fix what I think may be crap.
Or it might not be crap after all. I believe some parts are GOOD.
Not to mention that I did a signing, am continuing to get over the nasty 2 week cold, drinking incredible amounts of tea and herbal tea...got the preliminary cover which I love but doesn't look anything like the setting I had in mind...and saw a deeply mediocre review of Enchanted No More. I should NOT look at those things when I am in this sort of mind space.
Anyway, that's the update/babble for now. Bottom line advice: Put it in dialogue.
May you be cool, calm, and collected.