Page Proofs - Galleys -- Electronic
I got the page proofs (galleys) for Heart Change yesterday (see image below). Since this whole thing has been done electronically, the page proofs are in pdf. Usually at this point, in the paper way of things, I would take the copy edits and the page proofs to my friend who line edits for typos and punctuation for me (though Berkley's idea of punctuation and mine and hers are different).
However, I didn't want to force her to look at the hideous electronic copy edits I got and have to compare somehow on screen. She, like most of us, has only one screen.
So I just sent her the pdf files and told her to tell me if any strange choreography occurred or something. **Sigh** So, we will hope, as usual, that very few mistakes go through. I've come to accept that some mistakes may always get through. My friend, who hasn't read the book, DOES occasionally get caught up in the story.
Anyway here's a sample.
May you enjoy your work, Robin
All rights reserved; copyright © Robin D. Owens. The text contained within may not be reproduced in whole or in part or distributed in any form whatsoever OR SOLD without first obtaining permission from the author.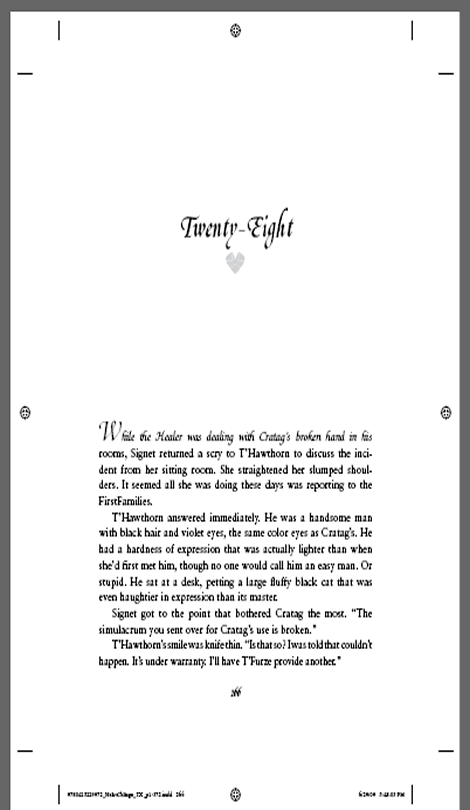 Labels: electronic page proofs, galleys