Writing Software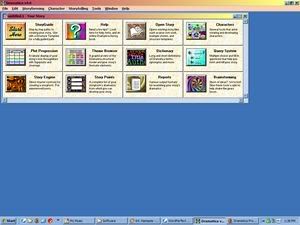 My pitch for the seminar for my seminar workshop for Romance Writers of America on Writing Software was turned down. No clue why.
But since I put a lot of time into the Mile Hi workshop and it was fresh (again), I submitted it.
And since it would have taken even more time to make the seminar smooth and do examples, I am not altogether displeased that my pitch was turned down.
I haven't quite figured out why other writers aren't as interested in software as I am except that they must have kick-ass groups that meet really often...or must be whizzes at plotting.
I DO have a kick ass group, but we meet once a month, and when things fall through (like they did last month) and we send stuff out...well, I sent the new Heart Hope opening out and got 2 replies from my group of 7 others.
So...wandering this am...I USE writing software, which is why I can speak on it. Currently I have loaded on this laptop: Dramatica Pro, Liquid Story Binder, Write Way, ThoughtOffice and Storybase. On my desktop (still in shop, I'm hoping that new board came in), are the additions of Power Structure and Inspiration (which is more of graphical brainstorming program).
Many of those I bought to try and also to comment upon for the seminars (originally pitched a few years ago).
I have used Dramatica, Write Way and Storybase.
I am currently starting the plotting part of Dramatica for my contemporary fantasy romance story. Dramatica has a high learning curve, but it really makes me think about the structure. I'll do other stuff, too (like tarot and the Writer's Journey, I've pulled the cards, may pull more), but at least it will be a start I can give to my group to critique (though I am missing this month's, too, for a signing).
Now that I've said the above, I need to open up my program and get at it. The nice thing about working for myself in a household of 1 person is that I didn't have to scramble to get myself or others to work today now that it is an hour later.
May you follow an interesting path today.
Robin