Baby Asus Computer
I really need to get a camera phone or a digital camera so I can add more personal pics to this blog.
Anyway, I took Baby, my little ASUS computer out for a spin yesterday to my local coffee shop and did about half a page. Some was getting used to the keyboard, I'll have to work on it for a while before I become fast. I recall that the laptop was awkward for a while. The keys need MORE pressure than usual, and I kept hitting the Up Arrow key for Shift which inserted text in the previous sentence.
And I got frustrated with the lack of the Reveal Codes feature. I use it more often in Wordperfect than I knew. It's always on when I'm writing and something went wonky in the document with the paragraphing and I couldn't figure out what it was, inserted tabs, spaces or strange paragraph formatting so I made a brand new document.
Note the reveal codes feature in the screenshot below, it is at the bottom of the page, in blue. It lets you know every space, tab, dash, comma, everything. I use it often, too, when I'm typing in Times New Roman and need to check on single/double spacing.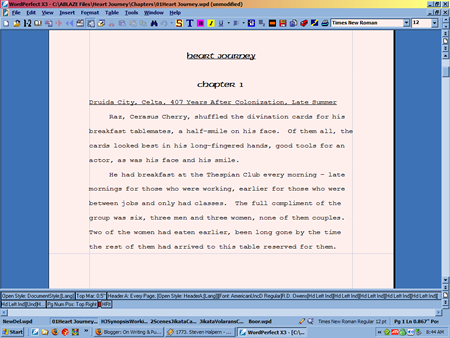 That's all for today. The am wordcount is done and I'm coming to the end of my break and will have to get back to the book. This am I wrote a love scene, when I go back it will be a battle. Not THE battle....
May you enjoy any battles you have today.
Robin