Life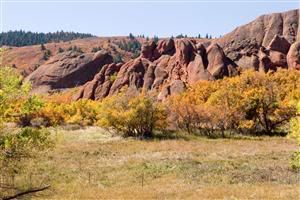 I went to a memorial service yesterday for the mother of one of my friends. It was wonderful. Helen Angel had been an avid outdoorswoman for all of her life, had climbed 100 fourteeners (that's mountains over 14000 feet), a wildflower expert and had volunteered in Roxbourough Park for many years. The park manager said it was because of women like Helen and Helen particularly the enabled her own career, particularly at the park. They graciously allowed us to have the memorial service on the visitor center patio and it was gorgeous.
The day was beautiful (me, being here in the house that is now mostly cool, overdressed in a sweater and was uncomfortable). The view was incredible and made me proud to be a Coloradan -- scrub oak golden in the sun against red rocks thrusting into the blue, blue sky that has taken on additional color as winter comes. I haven't been there in years, and it's too bad because I've missed things.
So, of course, it had me reflecting about life (especially since I was caught in a vicious traffic jam with the sun broiling me as I drove home in rush hour). I'm ok with my life, with what I am doing. You all who respond to my blog and send me notes make sure of that, and I'm following my heart. And I feel like I'm contributing -- spinning stories to entertain and take people out of their lives and maybe lighten the load of others.
My ex was recently in town and we visited (ok, he still owes me money and I have this vague, futile hope that it will actually be repaid, and -- well -- I'm not sure why I met him). Anyway this guy is scary-looking now with his wild beard. He wasted his life. He had more intelligence than a lot of people I know, but he also had a lot of charm and he could slide through life -- and did and has.
Compared to him, I feel REALLY good. So, those of you who have told me you like my work, thanks. And I got an email the other day (one of those letters authors dream of but sound too hokey or self-indulgent to show to anyone) that helps, too.
The sun is rising. I can see the colors of the red brick and white bow window across for me, and it is no longer dark. Since this is the first time I've been up at this hour in a while, I think I'll go look at the sunrise.
May you enjoy the sunrise or the sunset or a book you read today.
Robin
ps, here's one of the
hymns at you tube performed by the songwriter
:
http://www.youtube.com/watch?v=1TWd3skb-Rw