SORRY, FOLKS I DIDN'T POST THIS BEFORE I LEFT THIS AM AND COULDN'T GET IN FROM WORK.
rOBIN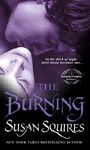 Want some really interesting, edgy vampires? An intricate and fascinating read?
Buy Susan Squires.
The Burning is her latest book and here's the blurb.
THE BURNING (April 2006) — It is 1821, and all who know the beautiful, mysterious Ann Van Helsing believe she is insane. Yet Ann's curse is not lunacy, but rather the deep psychic ability that allows her to know everything about another human being -- their history, thoughts, and desires -- simply by touching them. Overwhelmed by a power she can barely control, Ann roams the woods and caves near her estate, searching for a peace that eludes her. It is here she encounters the man who will change everything. To repent for an unforgivable transgression against his own kind, vampire Stephen Sincai has become a vigilante who must hunt and kill those whom other vampires have made. When Ann discovers Stephen bleeding in the woods, she reaches to touch him before she can stop herself. In an instant, Ann knows every fiber of Stephen's being -- and the knowledge is at once frightening and insatiable. Ann and Stephen are drawn together by a force more powerful than they know. As Stephen and Ann continues to fight against the evil surrounding them, an unseen treachery has yet to be revealed: an enemy bent on destroying them by making them choose between what they love and fear the most.
Susan really is one of my favorite people. I hung out a lot with her and Harry at Archon and Celebrate Romance (lately) and a while back Mom and I hung with them at various RWA conventions.
Buy her books. I did. Mom was quite upset when she finished The Companion and didn't have The Burning yet...
Oh, and Susan has a book trailer movie up at her site, take a look and tell me what you think. AND SUSAN IS BLOGGING AND TAKING QUESTIONS AT THE MIDNIGHT HOUR TODAY AND TOMORROW:
http://www.themidnighthour.net/
And may the worlds you build be unique (but of course, they are).
Robin