An Angela Knight Novella!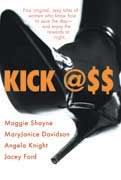 Angela is a true mistress of writing short (not that her long books aren't awesome, either), but I first learned of Angela by her short, exquisite pieces.
Robin
"Warfem" featured in KICK ASS by Angela Knight
They're sexy. They're smart. And they aren't afraid of a little danger-not even when it comes to matters of the heart...
In "Warfem," Alina Kasi reunites with her lover Baird Arvid after two decades apart. Passion instantly blazes between the two superhuman warriors, but old enemies and new lies may tear them apart. And Alina dreads what Baird will do when he finds out about the secret she's been keeping for the past twenty years. But she soon discovers she's not the only one keeping secrets.
Four of today's hottest authors present a quartet of stories about bold women who take no prisoners-either in a fight or in love. Whether it's in the bedroom, in the outer limits of the galaxy, or out on the mean streets, they kick heart-stopping action to the next level. These are women who can hold their own and aren't to be trifled with. The men in their lives know that-and they love it...
Excerpt:
http://www.angelasknights.com/warfem.htm