Photo Meme 1
First, the contest question:
6. Sir Robert, the hero in DARK RIDER, fears his horse has contracted a fatal disease--then Sir Robert ends up getting sick from the same contagion.
What was the disease? Answer at
http://equestrianne.com/kdennis/
Got this from Catie Murphy
http://en.wikipedia.org/wiki/Special:Random
The first article title on the page is the name of your band.
2.
http://www.quotationspage.com/random.php3
The last four words of the very last quote is the title of your album.
3.
http://www.flickr.com/explore/interesting/7days/
The third picture, no matter what it is, will be your album cover.
REMEMBER TO NOTE DOWN THE PHOTOGRAPHER (I FORGOT).
You then take the pic and add text to it
It didn't quite work for me...but I got flummoxed from the start since my very first random choice was the rock band Genesis...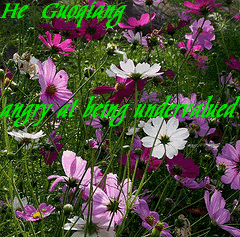 ;)
The quote was from Julia Cameron whom I adore:
When we are angry or depressed in our creativity, we have misplaced our power. We have allowed someone else to determine our worth, and then we are angry at being undervalued. (which pretty much happens when I think of the Publishing Business).
But I really, really like this meme, it's fun for me me so maybe I'll make it a monthly thingie
May random acts be lovely for you today.
Robin