Protector of the Flight Ad
This is the ad I wrote for Protector of the flight:
This is among the most joyful series of novels in any genre...when the ending page arrives, YOU feel the Snap, pulling you reluctantly back to the real world. Ms. Owens has mastered characterization, interweaving the lives of previous main characters with those of the new expertly, so you meet new friends and catch up on the old. – Amanda Killgore, Huntress Reviews
You know a book is good when your skin goosebumps and your scalp tingles after reading the final page. I believe Robin D. Owens is a master magician disguised as a writer...I can hardly wait for each book. – Kathy Boswell, The Best Reviews
If horses could fly...
Then Calli Torcher might ride again. But a devastating accident left her in such pain, she thought the chimes and chanting in her ears were a hallucination...until she found herself transported to another world, and met the Lladranans who had Summoned her.
Lladrana was a parallel, magical earth filled with exotic creatures, noble humans and magic– all threatened by an encroaching evil.
And when the might volarans stopped obeying the Chevaliers, the flying horses' unexpected rebellion had thrown Lladrana into an uproar. In desperation, the sorcerers had sought help from afar - and gotten Calli. If she could fulfill this mission perhaps she would also finally find all she had longed for – a mate, a home, a family. But against this great darkness she had no battle experience, no strategy plans. She had only a bond with horses...
This appears in Romance Sells a free booklet that goes to booksellers and libraries from Romance Writers of America. They also include my city, state, the ISBN, and the release date.
And have this icon ;)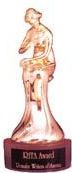 RITA(c) Winner
May you make your writing goals today.
Robin