A Taste of Darkness
Nina Bangs is one of my favorite people, and her books rock!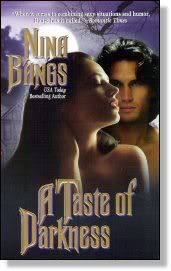 He'd lived a thousand years for this? Reinn Mackenzie was one ticked-off vampire.
Werewolves--furry pains in the butt. Werecats--sneaky whisker-twitching manipulators. Reinn hated them all. But most of all, he hated his job. Guardian of the Blood. What a crock.
The Mackenzie council, in its infinite stupidity, had ordered him to protect the purity of the clan's bloodline. What purity? They were all just a bunch of bloodsuckers, for crying out loud. Besides, how could he destroy a clan member for mating with someone not on the council's approved list when the very sight of a certain little werecat revved his engine?
Kisa Evans made it impossible for him to think about anything but the dangerous fantasy of freeing his own inner beast. No matter how he fought the desire to feel the soft heat of her throat beneath his lips, the craving only grew. Kisa might be the enemy, but he longed to show her the sensual pleasure to be found in...
A TASTE OF DARKNESS
May your dark writing today be as successful!
Robin