Of Widows and Orphans
I've done a second check of the 1st Pass Pages (galleys/page proofs) of my novella Road of Adventure which will be coming out in mass market paperback this June. Since it's going from trade paperback to mass market paperback, I get another look at it. I've changed a little wording and added an important sentence.
However I was concerned by some remarks I saw in the margins. When I see comments in the margins, they're usually from the copy editor or my editor and I address them. This time it was all about "loose line to avoid orphan?" and occurred several times. Well, this novella was very tightly written for me, so every line counted. I called my editor's assistant, then got an email from my editor which I replied to with my concerns. I was then told that my editor consulted with the managing editor (I think this must be the person in production who looks at manuscripts) and I was to disregard the TYPESETTER's comments. I'm a little concerned that the typesetter is messing with my story, but that's a different blog.
Your word processing program should have an on/off option for Widows and Orphans. A widow is when the first line of a paragraph is left on the bottom of the page (or at the top), like this: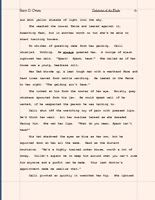 An orphan is when one word is carried over to the top of the next page, like this:
A widow just looks bad to some people. An orphan wastes space...a whole line which could be printed for one word.
This is not usually a problem UNTIL the galley/page proof stage, and I've never found editors worry about this because the ms. (manuscript) format will change when typeset.
Handling Orphans: If you need to cut pages or tighten for a contest, the first place to look is at orphans (a paragraph ending with one word). If you can tighten that paragraph, you will have one more whole line. This is also good if you want to tighten your work in general. However it does have a drawback, which is altering the rhythm of the paragraphs which can, in turn, make them flat. If you have something like 4-full-line paragraph, 4-full-line paragraph, 4-full line paragraph, you can definitely sound flat.
That's it for today, may the rhythm of your words SING today.
Robin