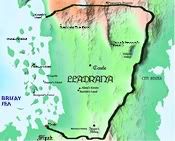 Lately I've been consulting a lot of maps in my writing to get the choreography of a scene right. Three to be exact...a Castle map (the one inside Guardian of Honor and Sorceress of Faith), a map of Lladrana (the country) and Amee (the world), (on my website), and the set up of a tower suite at the castle.
The Amee and Lladrana and Suite maps I created myself with Pro Fantasy software.
http://www.profantasy.com
, the castle map I
drew
then the Luna art department developed, then I've modified.
In fact, for every story I modify something...the colors and furniture in the suite, adding Calli and Marrecs apartments in Horseshoe Hall in the Castle, adding their new estate on the map of Lladrana.
So my descriptions in the books DO match the maps...when worse comes to worse, I at least do sketches of, say, Trif's apartment, so I can visualize the place and how to get from the bedroom to the mainspace. That doorway is of vital importance in Heart Quest.
I think maps and sketches are good tools for the author, to keep yourself clear where you are. For instance, I'm not sure if I will ever do a map of Druida (the city in the Heart books), because I THINK I've put several things in the same spot, which makes me a little confused when I mess around in the city itself (as opposed to CityCenter or a specific estate). and if I'M confused, I figure the reader should be, too.
Oh, and I didn't give my Mom a map of the Castle or Lladrana when I gave her an arc of Sorceress, and one of the things she mentioned when I gave her an authors' copy is having the map.
And I keep my maps in their own folder where I can find them...
May you always know where you are today.
Robin