Promo Items
Usually all authors will have promo items "gimmes" from miniature flashlights to bookmarks/postcards. I do wallet calendars. The idea came to me when I saw some in the RWA goodie room before HeartMate came out (7/01)-- but these had a "standarad photo" and I wanted my book cover on the front. HeartMate came out in December so a wallet calendar for 2002 would be perfect. I wanted something small that people would use over and over again. I worked with Su Kopil of Earthly Charms on this.
I think that I was the first author to do wallet calendars with my book cover on it. So far, I've been doing that for every book. I've sent some to my publisher to send out with their sales people.
For the later books, Heart Duel and Heart Choice, I've been doing a wallet calendar from August-July or something like that, and given them out at the RWA convention. The hardest part is having them SEEN. I usually put one out with the cover, then many out with the calendar part. Usually I have to keep flipping them over, so that folks know what they are. I've done this at my local SF convention, too.
So here's Sorceress of Faith front and back and Heart Choice front and back.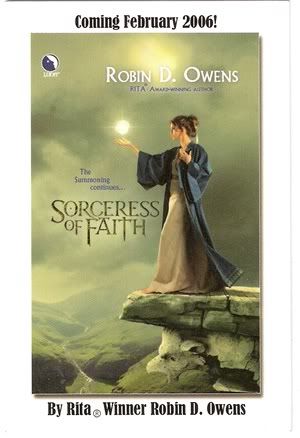 The color isn't quite right on SOF, there's less yellow in the green. I have a real problem with yellow green...or maybe it's just lima beans. Loathe both.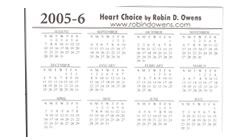 May all thoughts of promotion be far from your mind and enjoy writing today!
Robin