Galleys / Page Proofs
The old word is galleys. My Berkley editor calls them Page Proofs. Here's a sample from Sorceress of Faith.
Mostly minor corrections, this time, but a few lines added here or there. You'll notice that when we did the copy edits we came out with a sentence that made no sense, so I'm correcting it.
The Characters:
Marian -- Heroine, grad student of Comparative Philosophy and Religion, Boulder CO
Jaquar -- Sorcerer, seen in Guardian of Honor, Hero of Sorceress of Faith
Alexa -- Marshall of the Jade Baton, Heroine of Guardian of Honor, formerly of Denver
Sinafin -- Shape-shifting magical being more powerful than she seems
Bastien -- Marshall of the Black and Silver Baton, Hero of Guardian of Honor
Setting: Walking up a hill from the town of Castleton to the Marshalls' Castle.
Jaquar is of Earth-Lladranan blood. Marian has just asked: "Has anyone ever kept track of all the mixed bloodlines in a historical genealogical way?"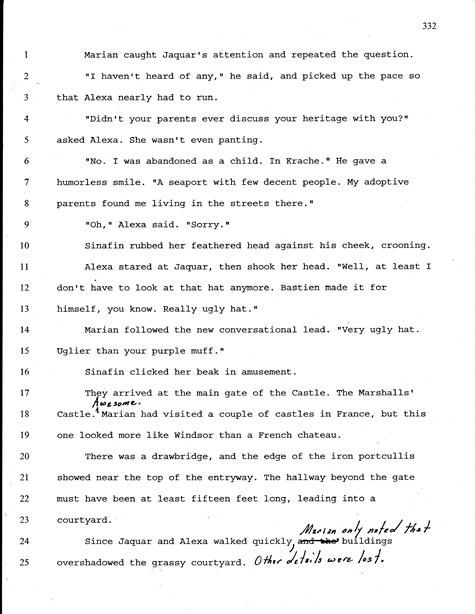 May all your revisions be easy.
Robin