Writing Retreats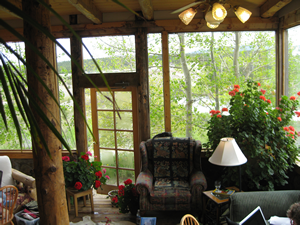 All right, I like being in another room with writers, talking about writing and publishing during meals, taking breaks.
This time wasn't as productive as I'd wanted and it was all about me. I couldn't settle well, and I had a hard time sinking into Heart Journey since my Luna editor emailed me about concerns regarding the Timeshifter proposal on Friday and we went back and forth on appointments to talk on Saturday.
In any event, I didn't have a huge goal just 2000 words a day, and I came home with 8100, I think, but that was mostly because I did 3500 words Monday am. Having Raz (hero) in the room with Del's (heroine) old lover, Straif Blackthorn, pumped me up.
My computer didn't get the net. The new, tiny itouch did, but I am still figuring out how to use it...it took me a few hours to understand how I can access my regular email account instead of the two tiny ones I assigned to the baby. So, I kept asking for help online to reconfigure the laptop so it would popup a window while it tried to connect to ask for a password. Which it doesn't on a secure wifi, so I was just out of luck.
I think I would have been better able to settle into retreat if my tools were working properly. I didn't have to be on the net all the time...in fact the sunroom rarely got the net...but knowing I COULD would have been helpful.
So, that's that.
The mountain scenery was gorgeous, we are having a very cool and wet summer, so hills that should usually be brown were green. The temp dropped to 24 and wiped out the manager/cook's garden.
And I think I'm still tired this morning. I have this feeling that Tommy has started his old game of waking me during my last REM dream cycle which just leaves me weary.
But, yes, bottom line, I love retreats, am glad I did, signed up for one in October though I will also be doing the weeklong one in November in South Carolina. A while back I YEARNED for a retreat and couldn't find one like these -- writing and not presenting or listening to presenters. Now I have two, I am blessed.
May you find things that work to inspire you today,
Robin