From the Denver NaNoWriMo blog page plot generator.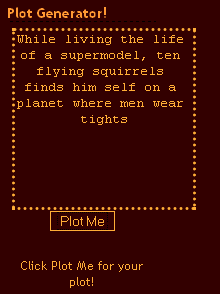 Um, now, let's see. A coupla centuries in the future there's this family, see, of ten very gifted sisters called "The Flying Squirrels" who were once an acrobat team but our heroine is now a supermodel. One of their number goes on an interstellar trip and gets in trouble and sends out an SOS. The whole group answers and finds buff guys in tights and their true loves (not mutually exclusive).
I think this has been done only a few hundred times.
But it's a fun device. May you have fun today.
Robin