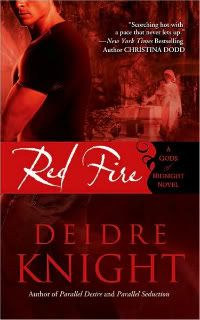 RED FIRE by Deidre Knight
"Powerfully sensual and mind-blowing,"* Deidre Knight's novels have set the standard for boldly erotic paranormal romance. Now she unleashes an electrifying new series in which seven Spartan warriors, immortal protectors of humankind, battle their passions—a collective weakness that could lead to their downfall.
Eternity has become a prison for Ajax Petrakos. Centuries after he and his Spartan brothers made their bargain for immortality, Ajax struggles to maintain his warrior's discipline. His only source of strength is his hope that he will soon meet the woman once foretold to him—the other half of his soul, Shay Angel.
Ajax searches for his destined mate on the haunted streets of modern-day Savannah, but he isn't the first to find her. Shay, the youngest of a powerful demon-hunting clan, can see the monsters that stalk the steamy Southern night—an ability that draws the deadly attention of Ajax's worst enemy.
As she and Ajax race to solve a chilling prophecy—one that could spell Ajax's death if they don't succeed—a fated passion arises, threatening to sweep away everything in its path.
*Romance B(u)y the Book
Cover: http://images.barnesandnoble.com/images/27450000/27456218.jpg
Excerpt: http://deidreknight.com/red_fire_excerpt.html
ABOUT DEIDRE KNIGHT
Deidre Knight is president of The Knight Agency, which she founded in 1996. Since that time, she has grown the agency to national prominence, landing authors on every major bestseller list. Deidre began her writing career at age nine, when her award-winning essay on Barbie was published in her hometown newspaper, the Atlanta Journal-Constitution. She has been writing in one form or another ever since. After nearly a decade of working with Knight Agency clients, helping them discover their creative potential, her fiction debut with NAL in 2006 marked the fulfillment of her own lifelong writing dream. She is excited to embark on yet another new and fulfilling creative journey.
REVIEWS
"White-hot immortal warriors, heart-pounding romance, and thrilling action. It doesn't get any better than this!" --Gena Showalter, New York Times Bestselling author of The Darkest Pleasure
"Deidre Knight has created a fascinating world of gods, demons, and immortal warriors. Her heroine, Shay Angel, is both strong and sympathetic, a woman discovering powers she never knew she had. Legendary Spartan Ajax is handsome, seductive and haunted -- a hero to inspire delicious dreams. I can't wait for more!" –Angela Knight, New York Times Bestselling author of Master of Dragons
"Hot Gates, hot men, myth and magic in modern day... Red Fire flies above the rest. Sign me up for more Gods of Midnight!" – Jessica Andersen, bestselling author of Nightkeepers
"Scorching hot with a pace that never lets up." --Christina Dodd, New York Times Bestselling author of Touch of Darkness
"Knight provides an intriguing new twist to both Greek mythology and legendary Spartan warriors with this searing new series, as she sets up an alternate world that begs to be explored." – Jill M. Smith, Romantic Times, 4-Star Review
"Here is a story as rich and as vibrant as any myth, and for those who are interested in the paranormal, Red Fire is a real feast for the hungry and a no holds barred winner."—RomanceAtHeart.com
May your day be warm.
Robin