I feel passionately about the Writer's Strike, but I am not going to preach. I WILL support.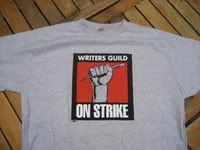 Here's the
link
to buy your own shirt (and they have special ones for the trek picket day).
When I visited a couple of the sites last night, the amount of revenue that LA had lost due to the strike was about $710,000,000
May you get fair pay for your work today.
Robin