Yearly Mythological Mascot
I choose a mascot for the year for my engagement calendar monthly symbolism. Usually this is on whim the previous year.
2007, of course, was the pegasus for Protector of the Flight.
This year will be the sphynx. Also winged, but cat, not horse. 2006 was the centaur, which is mostly portrayed as male, so I wanted female.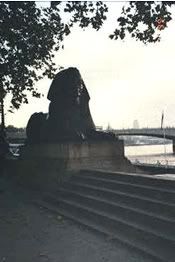 I've been collecting images of the sphynx for a couple of years, (and hippocamuses cami?/seahorses for some year in the future) which will grace the pages of my book, but not here because most are under copyright. Since I've been doing this for about 10 years, I've already run through a lot of creatures.
The above photo is mine, taken by me on a trip quite a few years ago.
May you know where you're going today.
Robin