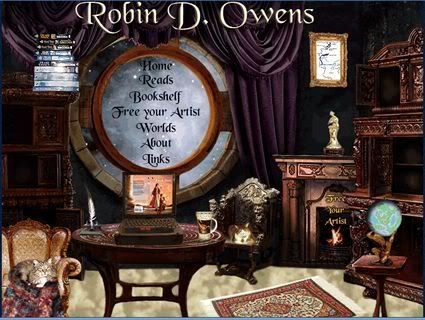 First, just spent some time doing my morning pages -- though I now consider this blog a bit like morning pages, but, frankly, it's public so I can't really spew and nobody likes listening to that on a daily basis anyway...or whine. Same difference.
But I've noticed morning pages don't take me as long as they used to. Writing larger and not on lined paper, spacing more between the lines. Twenty minutes rather than 45.
Secondly, website for December is UP! And since I did the website for January, yesterday, it should go up on time. YAY. I know I want to do Calendar/Time for February since it is leap year.
The above screenshot of my site has "Free Your Artist" highlighted the pointer over the fire...don't know if you can see it, but my web pointer is a gauntlet...
I like my prize, it IS a SMALL pouch. I love the Yule poem. Please note the decoration on Free Your Artist. I DO NOT have the artist of the decoration to ascribe her work to her. If I did, I would.
Have a pleasing day.
Robin