HeartMate Reissue Cover Reprise....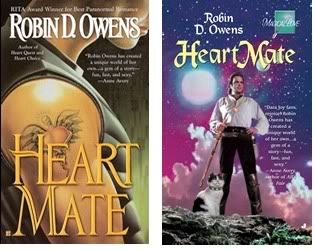 Here they are, side by side. Again, one of the first things my editor said was "send pictures of cat." I still smile at that, and the first time I saw the original art was approximately 5 years ago, just before the RWA convention. So I'm sentimental about the cover, but frankly, I like the new one better -- EXCEPT THERE IS NO TATTOO MENTIONED IN THE BOOK.
As I started to write this, I got an idea of a scene to explain the tattoo -- as it is fading from T'Ash's arm many years before the start of the story...BUT, I think I've figured out that it could actually HAVE been in the story, but not noticed by anyone...LOL.
Thanks for indulging me.
May your muse indulge you today.
Robin