Rough Draft -- Handwritten
No, I don't often do this anymore, but here's an early part of Guardian of Honor. Note the cross outs, the "stet" which I picked up from my copy editor which means "leave it" and most of all the #1. Inevitably, since I don't write in sequence, I have thoughts that I put somewhere else when my mind is speeding and then need to integrate it back into the story. Also here is #1...
Oh, and the actual published pages of Guardian of Honor...which don't look much at all like the rough draft! Actually, I think bits of this are sprinkled through out the chapter...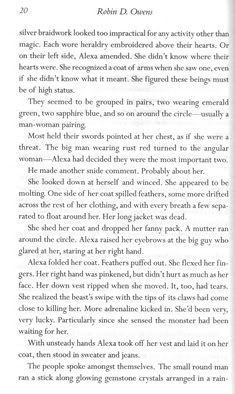 May your writing be smooth today.
Robin