2nd Sale, Sometimes Harder Than The First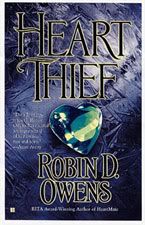 After HeartMate sold, I continued submissions to agents. I was rejected a few more times before I hooked up with someone. My editor knew at the time of HeartMate's sale that I had three follow up books partially completed. In May 2001 I forwarded a proposal for Heart Thief to my agent that went to Berkley/Jove, and put the first chapter of Heart Thief up on my website.
I promoted HeartMate as much as my time, bank account and personality could stand. I knew Berkley's promotion of HeartMate consisted of the cover. Even though I felt Berkley/Jove would be cautious in buying another futuristic/fantasy, I was still hopeful they might purchase Heart Thief. I really wanted a book out in 2002 and kept asking my agent what was going on. By March it was pretty evident I wouldn't have a book out this year. I learned HeartMate had some distribution problems and the print run was small. My agent severed our relationship. When people asked me when Heart Thief was coming out, I had a pat answer: HeartMate is the first futuristic/fantasy romance published by Berkley/Jove and they are awaiting sales figures before buying Heart Thief. My editor did tell me she WANTED to buy Heart Thief, so I remained hopeful.
Cindy Hwang called in May to offer me a contract for Heart Thief. I accepted. She stated that my forwarding reader (ESPECIALLY BOOKSELLER) appreciative comments, and the fact that booksellers were reordering HeartMate, was what gave her the power to make me the offer. Heart Thief came out in June of 2003.
May excitement and enthusiasm infuse your writing today!
Love Robin