Pictures vs. Writing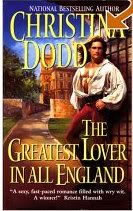 Check Out the 1994 Edition on Amazon.com for a larger image (or maybe the following link will work)
http://www.amazon.com/gp/reader/0061081531/ref=sib_dp_pt/102-4616309-9543366#reader-link
All right, in the next few days, I'm going to pull from some articles I've written in the past.
A picture is worth a thousand words. Or is it? One year a while back I had a calendar from Harper that featured heros from their book covers every month. Now Mr. January, a Tudor sort, intrigued me. He seemed to issue a subtle challenge, but I couldn't quite figure it, or him, out. So I decided to do what I usually do when I can't solve a thorny problem in my writing, present the issue to my romance critique group.
I knew the facilitator of my group had the same calendar, and that we tend to congregate in her office before group officially starts. And so it was on the first Saturday of February. We had been talking of this and that when the calendar caught my eye, still showing Mr. January. I brought up the idea that it would be interesting to do a character sketch of the man -- and his subtle challenge.
"Challenge" was the wrong word. Adjectives shot through the room. He was welcoming, generous. No, he was selfish, conceited. On the contrary, he was debonair. No, wily, dangerous -- as many adjectives as there were people.
"He's sensitive," someone said.
This man does not have a sensitive bone in his body, I thought. "Hey, he's arrogant," I said. "He's got his hand on his sword hilt."
"Where else would he put it? He doesn't have any pockets," my friend Liz retorted.
This is true. The guy is only wearing boots, thigh-hugging tights, a white, billowy shirt baring his manly chest, and a sword belt.
More discussion. I was astonished. No one in the room had the same view of the hero that I did. If we all sat down and did a character sketch, showing strengths and weaknesses, secrets and hopes, we would end up with seven very different heros. And seven very different stories. How fascinating. How wonderful.
But another thing to ponder is that a writer has more ability to direct the reader than the artist or photographer. By fashioning our stories, presenting certain characters and throwing light on their actions and thoughts, we can hopefully guide the reader. We can wring emotions, we can point out truths, we can make a point, state a theme. And while photos and pictures can do this as well, in writing there is less chance that seven different people get seven different points. Readers may identify with some characters more than others, recognize and emphasize some themes more than others, but all would have the same general understanding of the basic story.
A picture is not worth a thousand words -- not when it can't convey precisely what the photographer/artist wants. But when we deal in words, a point can be skewered home.
The critique group never did agree on Mr. January. When we continued to argue, the facilitator wisely flipped the calendar to Mr. February.
"Ugh!" someone said.
"Too tough," someone else agreed, as we filed downstairs to start our session.
I looked at him. A Western man -- unshaven, narrow-eyed, and with his hand on his gun-belt. His build, hair and eye color were wrong, but there was something about his expression, something subtle, that reminded me of my last hero. Too tough? Nah.