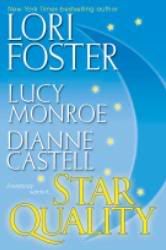 I
LOVED
Moon Magnetism.
One of those wonderfully original stories that I wish I'd written myself. I can't recommend it greatly enough. Get this book, all the stories are excellent.
Excerpt:
http://www.lucymonroe.com/ExcerptsSQ.htm
**ROBIN**
I got this off Lucy's Website:
http://www.lucymonroe.com
ON DOING VS. DREAMING: I have this wonderful quote on my "Tough Dames" calendar by Gossip Columnist, Liz Smith. "You can't build a reputation on what you intend to do." I love the quote so much because it is absolutely true and never more so than for the writer. A lot of people want to write a book, a few people will and even fewer will have the courage to submit their work to an editor. Dreams remain dreams until we give them feet. Then they become goals. I sold the 13th manuscript I wrote...that's a lot of feet for my dreams and it meant a lot of stumbling along the way, but the intention to write a book will not make you an author. Only writing it will do that.
Robin: I started writing when a relationship ended (ok, I was dumped by a very long-term lover). To do something for
me
I took a class on writing romantic suspense. There were about 15 women in that class in April. I kept up with the book (without any contact with critique -- wince) and by the time of the Rocky Mtn Fiction Writer's conference in September, had finished a book (mostly because a good friend of mine was moving away and wanted to know how it ended). In September, only TWO of us who had attended the class were still serious. I became good buddies with the other person, but she dropped out of writing after a couple of years.
So, by about the 3rd year -- of 15 who started there was only me. Is still only me.
NEVER QUIT!!!
Robin