Conference 2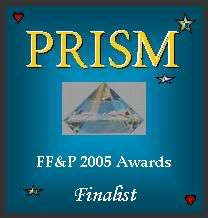 Sorry, the Caesar's Palace network was down...until I called the tech guy who came up (walking to the end of a long, long, long hall) and hit my Mozilla icon and of course it came up. That can be SO irritating!
I WON THE PRISM!!! FOR BEST FANTASY!!!
Sue Grant got best Time Travel, P.C. Cast (with whom I had a good conversation this am at the Berkley Signing) won best Light Paranormal. Her Luna book, Elphame's Choice, won Bookseller's Best and the Daphne (I think), any way, she's getting fruit salad, too. C.J. Barry won the PRISM for best Futuristic and Best of the Best. BTW, I think you can see the PRISM I won for Heart Thief on my website. I totally lost it when I accepted the award. I turned red, stuttered. I usually practice these things, but I
wasn't expecting to win, and had JUST walked into the room from the Kiss of Death party as my category was called. I can tell you, if I hadn't been there, I'd never have heard the end of it. Ok, that was evening. My stomach was upset both before and after, and I had strange dreams.
I spent the am with my Mom and looking at the shops, the afternoon was up at Tahoe with lunch with the Knight Agency. I spoke to Deidre of business and told her I'd have the Wretched Synopsis (and now revising chapter 3, too) to her within 2 weeks. Then, of course, I met my editor for Luna and she said she'd sent me the copy edits (deflagging in Luna terms), of Sorceress, and I, of course, want to tinker with the first 3 chapters some more. Urgh.
But I won the PRISM and met folks and talked to the Squires, then attended the Open Circle ceremony (which I like doing) and then the Midnight Madness bazar (far too late to see anything worth having).
So, now you see that I don't write in chronological order...and if this was a book, I'd move the paragraphs around, so the reader wouldn't have to arrange my activities in chronological order in their head as they read (if my ramblings meant enough for them to care). This is another way to LOSE readers in genre fiction -- especially if you don't clue them in that you're jumping around. Stream of consciousness or literary fiction might be able to use this technique, but I think then they'd have to do it in a studied manner unlike myself.
SMOOCHES TO ALL!
Robin (who has not gambled once -- those machines intimidate me -- and has not attended ONE seminar yet, but has done a BUNCH of networking!)