Art & Inspiration
Sorry, folks, I was up at 5:45 am but Comcast wasn't. :( Denver had an outage that wasn't fixed before I had to leave for my in-person critique group -- and, yes, you will hear stuff about critique group again this month tomorrow. Plumber is here fixing 2 leaks from the tub and coping with wasps who found a way in to nest...eeeek!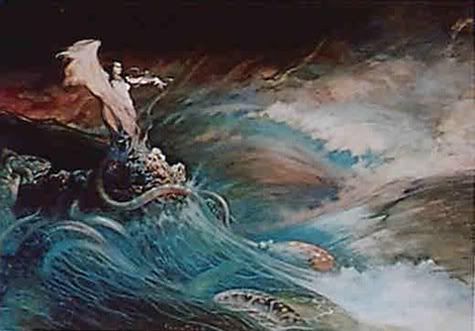 Regarding the cover art for Sorceress of Faith, I must admit I was thinking more like something above, Frank Frazetta's Sea Witch. I have a print on an old calendar somewhere of this one. Images DO stick with me. In fact, like I said before, most of my inspiration comes from physical objects (I'm tactile), but visual will do just fine. I had this image in the back of my mind when I wrote Sorceress and the "land that calls to her" is by the sea and when she raises her Tower (the last thing a Circlet must do to prove they're adept), she feels sea spray.
And I LOVE the cover for Sorceress – but compared to the above it looks very calm and (ahem) static… Note the energy in Frazetta's print. Of course, I don't know if "energy" would sell books…
Anyway I have ideas for Knight Protector and will be sending that art later…mostly Ciro Marchetti's Knights in his Gilded Tarot and Dream Tarot, and Nene Thomas' Carousel Horses (I have the brown print and love it).
Robin