AWARDS!

Yes, rewarding yourself is cool, but Awards are REALLY cool. And I got the first for Guardian of Honor already!! Hooray! (yes, this is the outside validation that is so dangerous for writers -- see a previous posting). But it's good to have a book win at least ONE award, and most contests I can enter Guardian in won't be judged until next year. And I didn't even know Guardian was up for an award, which makes it
SWEEET
. So, here it is, a Reviewer's Choice award from the Cataromance Group/Website, for best Luna of the first 1/2 of 2005! Cool.
And since RWA starts this week and I won their RITA award, I'll talk a bit about that, too. Most RWA chapters who have contests give the winners pins to put on their badges. For the RITA, the National award, they give you silver ladies for finalling and golden ladies for winning.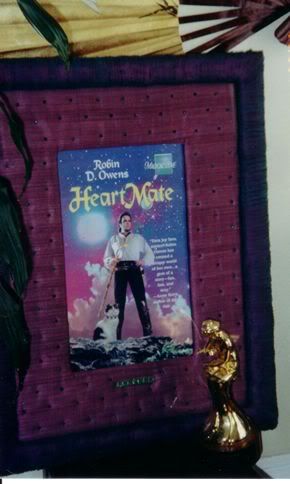 So, for me, RWA can be a real ego boost. I have 2 silver ladies and 1 golden. I have my Beacon lighthouse, and a couple of PRISMs. I have the oval circle for service to a chapter...yes, some of us (like Mary Jo Putney and Maggie Shayne -- who is up for THREE RITAs this year -- look like Generals and Admirals with their fruit salad).
But, anyway, if you have those silver or gold ladies, you are usually treated pretty well by others. Like I said, an ego boost. After I won, I counted up how many people had RITAS. I think by now it is about 50+. Nora Roberts, I think, has more than 10. So in a conference of about 2,000 only 50+ people will be walking around with a golden lady on their badge/lapel.
Cool. Yes, outside validation can be very sweet, especially after a week of spending $$$ on the plumber, miserable heat, knowing you don't get paid for the time you're away from the day job, waiting for a check from the agent -- which was mailed but hasn't arrived -- and the massacre of the pitiful synopsis. Sure, I'm going to enjoy it!
Love to all,
Robin