Big Time
THIS IS LATE MONDAY AND TUESDAY'S BLOG!!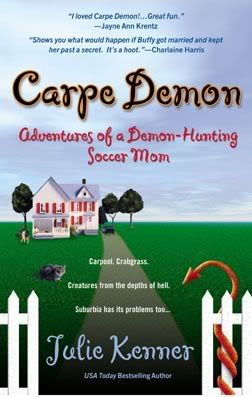 I am not Big Time. Well, I have won a Big Time award (the RITA), and lately have enough contracts to drive me ma—uh—keep me busy, but that I do not consider big time. I'm working on it, but not quite there...
Big Time is making USA Today or NY Times lists.
OR, like Julie Kenner of the wonderful Carpe Demon, Adventures of a Demon-Hunting Soccer Mom, being OPTIONED FOR A MOVE!! Is that cool, or what? Julie herself, is a lovely (and interesting) person.
So check out the blurb and excerpt:
Carpools. Crabgrass. Creatures from the depths of hell. Suburbia has its problems too...
Lots of women put their careers aside once the kids come along. Kate Connor, for instance, hasn't hunted a demon in ages...
That must be why she missed the one wandering through the pet food aisle of the San Diablo Wal-Mart. Unfortunately, he managed to catch her attention an hour later-when he crashed into the Connor house, intent on killing her.
Now Kate has to clean up the mess in her kitchen, dispose of a dead demon, and pull together a dinner party that will get her husband elected to County Attorney-all without arousing her family's suspicion. Worse yet, it seems the dead demon didn't come alone. He was accompanied by a High Demon named Goramesh who, for some unknown reason, intends to kill off the entire population of San Diablo.
It's time for Kate Connor to go back to work.
Excerpt here:
http://www.juliekenner.com/CarpeDemon.htm