World Building -- and The Aliens Have Landed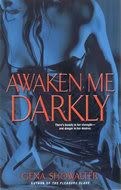 Whatever "world" you build – whether it is futuristic/fantasy colonists from Earth who develop psi powers (my Heart Series), Laurell K. Hamilton's alternate reality series with vampires and werewolves, etc., or Gena Showalter's new Alien Huntress Series – the world needs to be fully developed. I'm sure Gena has tons of rules and background materials that she isn't using in the books. For instance, yesterday was Summer Solstice and I use that -- it's a big deal as a date in Heart Choice (
coming in TWO WEEKS!)
But with aliens invading Earth, would the Earth folk have an advantage in knowing, perhaps in blood and bone, the natural Earth rhythms? Maybe the aliens are slightly weaker then and don't realize it? Tonight is the full moon, and everyone who builds werewolf stories uses
that!
For me, exploring a new world, new concepts is So Exciting! So take a look at this!
Awaken Me Darkly by Gena Showalter
Blurb:
Mia Snow is part of an elite task force within the New Chicago PD, and every night she stalks and kills otherworldly predators. Alien advocates often ask her if she, a hunter, a legalized killer, lives with guilt. Her answer: Hell no. She's seen the carnage aliens leave in their wake. Years ago, they killed her older brother and she has hated them ever since. They deserve the sting of her pyre-gun, and if necessary, she will fight to her death to see them eliminated. She is an Alien Huntress.
Now, there is an alien serial killer preying upon humans. Mia must use her psychic abilities and deadly fighting skills to find him. Funny thing, though. Her prime suspect, an alien, is also the only man she's ever loved.
Excerpt here:
http://members.cox.net/genashowalter/excerpt.htm