Backstory, Motivation, and Writing Short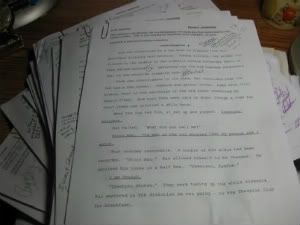 I need to add a LITTLE to my hero's backstory, up front and in chapter 1. This is always a challenge, because going on and on and on about what made him the way he was is one way to lose readers.
Writing pithy little pointed bits, with all the right words, is much more difficult than pages of rambling, and has taken some thinking.
I've finally done it, stuck it in the document and called it done for Chapter One.
The first chapters have also reached the point where I can't tell whether any changes I make are better or just different.
Now to completely cut the scene in chapter 4 (too many people, esp. for readers who pick up this book first) and rework it.
Thanks for all the comments here, email, facebook and tweets!
Robin