Website Update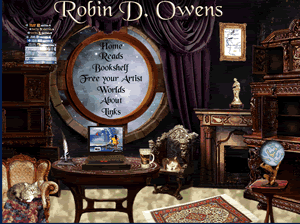 Yes, it's up, along with the appearances (on home page) of where I'll be signing. Also the final playlist of Echoes In The Dark...I'm still not happy with the men's themes, but so it goes.
The contest is for a silk coin purse.
No new excerpts this time, though I'm thinking next month I could put up a short-short story about Zanth (Fam in HeartMate) that I wrote for an anthology that didn't come to pass.
The Free Your Artist page is new, as always. Once again we've started archiving the old pages (didn't realize that we weren't doing this, but now it's fixed. Meantime I have them all if they're needed).
May you enjoy all the places you visit today.
Robin
Labels: website