Additional Reference Book for the Same Matter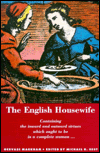 Does this help?
:) Actually I am interested in Stillrooms, those places where herbal infusions, oil extracts, etc. were made. Lahsin is currently sleeping in a building dedicated to such processing and I wanted to know the equipment. She may or may not be using it, but she does know how.
I think one of my modern herbals also has something on this....
May any research you do today spark creativity.
Robin