TONIGHT TATTERED COVER and Keeper of the Flames Copy Edits
First, you all, remember that tonight is the Writer of the Year Panel at Tattered Cover Lo-Do, 7:30 I will be playing Vanna White with the different give-aways.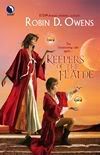 Next, got the copy edits of Keepers of the Flame. Not too bad. I've glanced through it. One whole scene with Koz was cut, so it will probably go up on my website after Keepers of the Flame comes out. A lot of little cuts here and there that I can mostly live with even though a couple of favorite lines.
A couple of the small cuts had set-ups in them that when you got to the pay-off you would have gone "What? When was that mentioned?" Which means that the editor wasn't seeing the payoffs, which means I must need to be uber-aware.
And there is a scene that is cut that I think is essential, so I've tagged it to see how the editor handled the also-essential pay-off scene. If it isn't handled well, the previous one goes back. Or a portion of it, or I rewrite a portion. Also a scene that is cut that I need to mention the consequences in at least a line or two.
So, as my mentor said when I whined at her, this is not going to be an easy edit job, though will probably be easier than MY edit last month. I'm about 1/4 way through it, and I'll just stay in Lladrana and work on the proposal for Singer For A World when this is done. Too bad because I was really zooming on Heart Fate.
Well, it's morning and I should trudge down to the dining room table where the ms. is spread out and hit it.
May you enjoy your work today. Hope to see those of you who are local toninight!
Robin