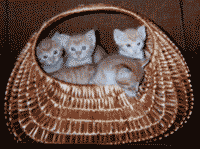 This Blog is part of the
Weekend Blog Relief.
Yes, I've donated some money to a writer's fund for some specific romance writers victims. I'm going to have a critique auctioned off for Larissa Ione (a bit of promo here, I did two for the Trish Jensen fund last year, and both ladies raved about them...one said she did better in contests after my crit -- I WAS brutal, but that's what they asked for)...
You all know that I am a major cat/pet lover, and I really don't want to IMAGINE what has happened to all those poor animals. So in the Blog for Relief, I am asking that you donate, like I have, also to The Humane Society, here,
https://secure.hsus.org/01/disaster_relief_fund_2005
Also, I'm supposed to put a couple of other tags on this to make it part of the official Blog Support for Katrina Relief.
http://technorati.com/tag/flood%20aid
and
http://technorati.com/tag/hurricane+katrina
Please help. And if you want to post pics of the animals in whose names you donated for, feel free.
Love to all,
Robin