What happened to the cat?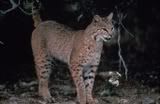 I'm about 150 pages into Heart Fate and there is no cat. There is a grumpy dog and maybe 3 lines of telepathic dialogue between heroine and dog.
I have a very lowering feeling that I'd better go back and put in a cat. I don't think my readers can go, say, 100 pages without a Fam. I've got wonderful hooks that I don't want a cat messing up, so I'll look and see where I can insert a few paragraphs. Cat will be Ilexa (mentioned in HeartMate) a Holly hunting cat (they raise hunting cats -- HeartMate and Heart Duel). I believe Ilexa will be friend and mentor at this portion of the book. Undemanding because Tinne is very tortured. Later she can be snotty or a trickster. Just occurred to me that any scene with grumpy, abused dog and trickster cat may be interesting.
But the next upcoming scene can be between Tinne and Ilexa a few pages at least, or more than a paragraph or two, and she will get an assignment.
That's all for now. May you be aware of your readers' expectations today.
Robin