Rhythm of Books -- And Covers Again
I am reading my Mentor's latest book, Navajo Echoes, and enjoying it. The print is HUGE. I like reading a book that starts with a plane crash that everyone staggers away from.
Since I'm getting back to the Heart books, there's something nice about knowing when something should happen at what page, since I'm on #7 and they all turn out 500 pages. Keepers of the Flame, with the two heroines, the two love stories and part of what was once Seamistress, was way too long and was hard for me to gauge.
My mentor, with these Intrigues, has it down to a science, when the turning points should happen (she says 3rd turning point is usually when the villain is revealed), when to introduce new suspects, how much time she has for a chase scene or a love scene or to wrap it up -- or spend more on description after she reaches the end and has a little extra time.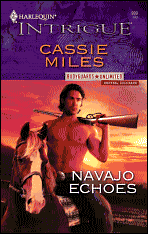 The cover is lovely but:
The hero is Navajo. He is a Bodyguard and expert in ELECTRONIC SECURITY SYSTEMS.
There is no horse in the book.
There is no rifle in the book.
There is no man on a horse with a rifle in the book.
Most of the book takes place on a Caribbean island.
However, I hope the cover sells the book like hotcakes.
May you be amused at your own musings today.
Robin