ISBN EANs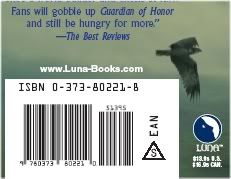 These are the numbers (like Social Security numbers) that your book is known by. ISBNs recently moved to longer numbers...well, while surfing I found HeartMate's new number!
Title: Heartmate
Author: Robin D. Owens
ISBN: 0425212408
EAN: 9780425212400
352 Pages
Publisher: Berkley Publishing Group
Binding: Mass Market Paperback
Publication date: 2006-08
Actually figuring out the ISBN the first time around was one of those New Author "DUH" moments. A reviewer asked for the ISBN. I didn't think I had it. A few days later I looked at the cover flat of HeartMate and DUH! There it was. I simply was too new to realize I could look there...**blushing**
I had quite a few DUH! moments as a first time author...And actually, superstition wise, the new number doesn't have as many of "my" numbers that the old one did. AND, BTW, I still know my old HeartMate number by heart 0-515-13289-6. Just put it down, no peeking! Well, there was a long time when I only had one book out so I focused (obsessed) on it...
May you be positively CLEVER today.
Robin