Unique Ideas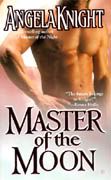 I knew and read Angela Knight when she started her career in e-books. I wrote a fan mail for one of her Secrets stories (all excellent) and was excited when Red Sage chose her to be their first published novelist, and REALLY excited when she sold to my house, Berkley.
There are some ideas that are, quite simply, unique, and because they are, they sell like hotcakes. Angela's new series is like this -- Merlin as an alien, hoping to save Earth and making the Knights of the Round Table vampires and the Ladies witches...simply unique, and, naturally, I wish I'd thought of it first. OTOH, I've never been able to wrap my mind around vampires or think of a new take on them. Like many women, I just READ them.
So here's a blurb:
Diana London is city administrator of Verdaville, S.C. She's also a werewolf who helps out the chronically shorthanded Verdaville Police Department by moonlighting as a police K-9.


But even Diana starts wondering if she's bitten off more than she can chew when a serial killer comes to Verdaville. This particular killer isn't your average psycho - she's a vampire sorcerer who kills men to power her black magic.

Then the King of the Fairies shows up, and things get
really
weird...

EXCERPT HERE (scroll down):
http://www.angelasknights.com/masterofthemoon.htm

So enjoy! Love to all, Robin