Promotion 101 == A Flyer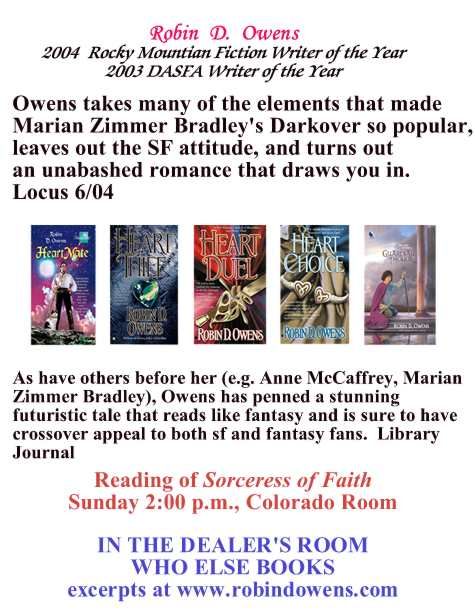 First, know your market. I attended Mile Hi Con this year, as I have for too many years to mention, long before I was even seriously writing. Here's a flyer I made up for Mile Hi Con. I put my 2006 wallet calendars of Sorceress of Faith beneath it. MHC is mostly for readers and readers of sf/f, and they are organized by DASFA (Denver Area Science Fiction Association, so I noted that on the flyer). I have done some Heart book stuff for it (usually booklets, but not this year). So the quotes I used focused on science fiction fantasy and the comparisons to Marian Zimmer Bradley and Anne McCaffrey.
The wallet calendars do best if the calendar side is shown and maybe one or two with the book cover, especially the Luna books.
Note I said where readers could buy my books, and when I had my reading. Hmmm, I think Who Else books might also be the last place where you/I could find the first printing of HeartMate...I think I'll be seeing Nina this evening at a gathering to watch Connie Willis' movie, so I'll ask her about them. I think I only have 3 and none are in what you would call pristine condition...used for readings or reference or attacked by the cats.
May all thoughts of promotion be absent from your writing today.
Robin